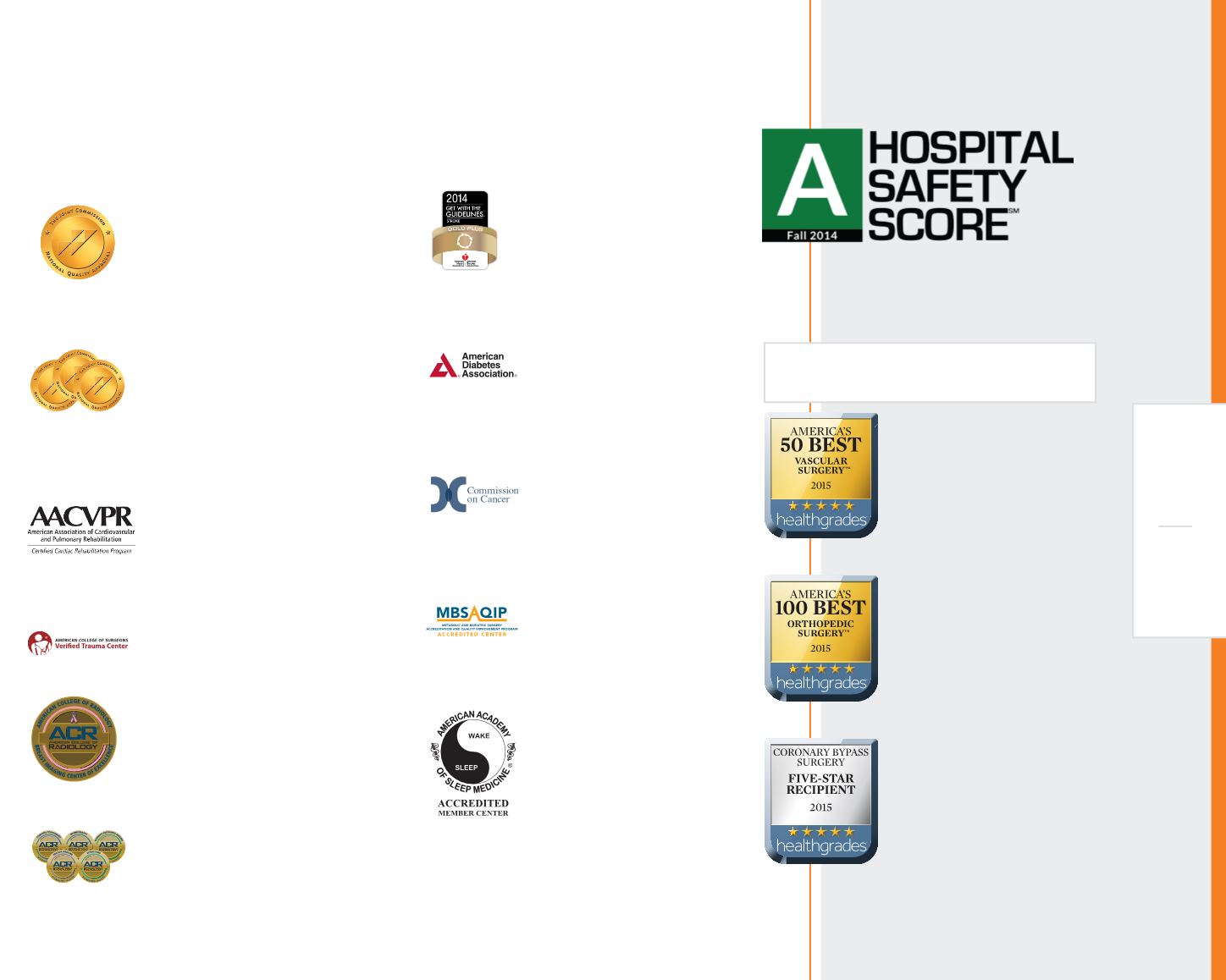 11
ANNUAL
REPORT
2014
Recognized for meeting National
Standards for Diabetes Self
Management Education by
the American Diabetes
Association
Cancer Program Designated
Community Hospital
Program by the American
College of Surgeons
MCH Sleep Center – Accredited
by the American Academy of
Sleep Medicine
American College
of Surgeons – Metabolic
and Bariatric Surgery
Accreditation and Quality
Improvement Program
Healthgrades Recognition 2015:
America's 50 Best
for Vascular Surgery
America's 100 Best
for Orthopedic Surgery
5-Star Rated
for Coronary Bypass Surgery
Received an "A" for Hospital Safety from
The Leapfrog Group. This is their top
grade in patient safety.
Hospital Accreditation – The Joint
Commission Seal of Approval™
for accreditation by demonstrating
compliance with The Joint Commission's
national standards for healthcare quality
and safety in hospitals.
Get With The Guidelines – 2014
Stroke Gold Plus Performance
Achievement Award with Target:
Stroke Honor Roll by the
American Heart Association and
American Stroke Association
Cardiac and Pulmonary Rehabilitation
Certification by American Association
of Cardiovascular and Pulmonary
Rehabilitation (AACVPR) for
commitment to improving the quality
of life by enhancing standards of care
The Joint Commission Seal of Approval™:
• Stroke Program – Primary Stroke Center
• Diabetes Program – Advanced
Certification in Inpatient Diabetes
• Bariatric Program – Certified Bariatric
Surgery Center
At Medical Center Health System, quality is more than a guiding principle; it is the foundation upon
which our entire healthcare network is built. This is why we are proud to share the many quality
accreditations, certifications and achievements awarded to our network by the nation's leading
accreditation programs.
American College of Radiology:
Breast Imaging Center of Excellence
Level II Trauma Center - American
College of Surgeons Verified,
Designated by the State of Texas
American College of Radiology
Accreditation in:
• CT (Computed Tomography)
• Mammography
• MRI (Magnetic Resonance Imaging)
• Nuclear Medicine
• Ultrasound