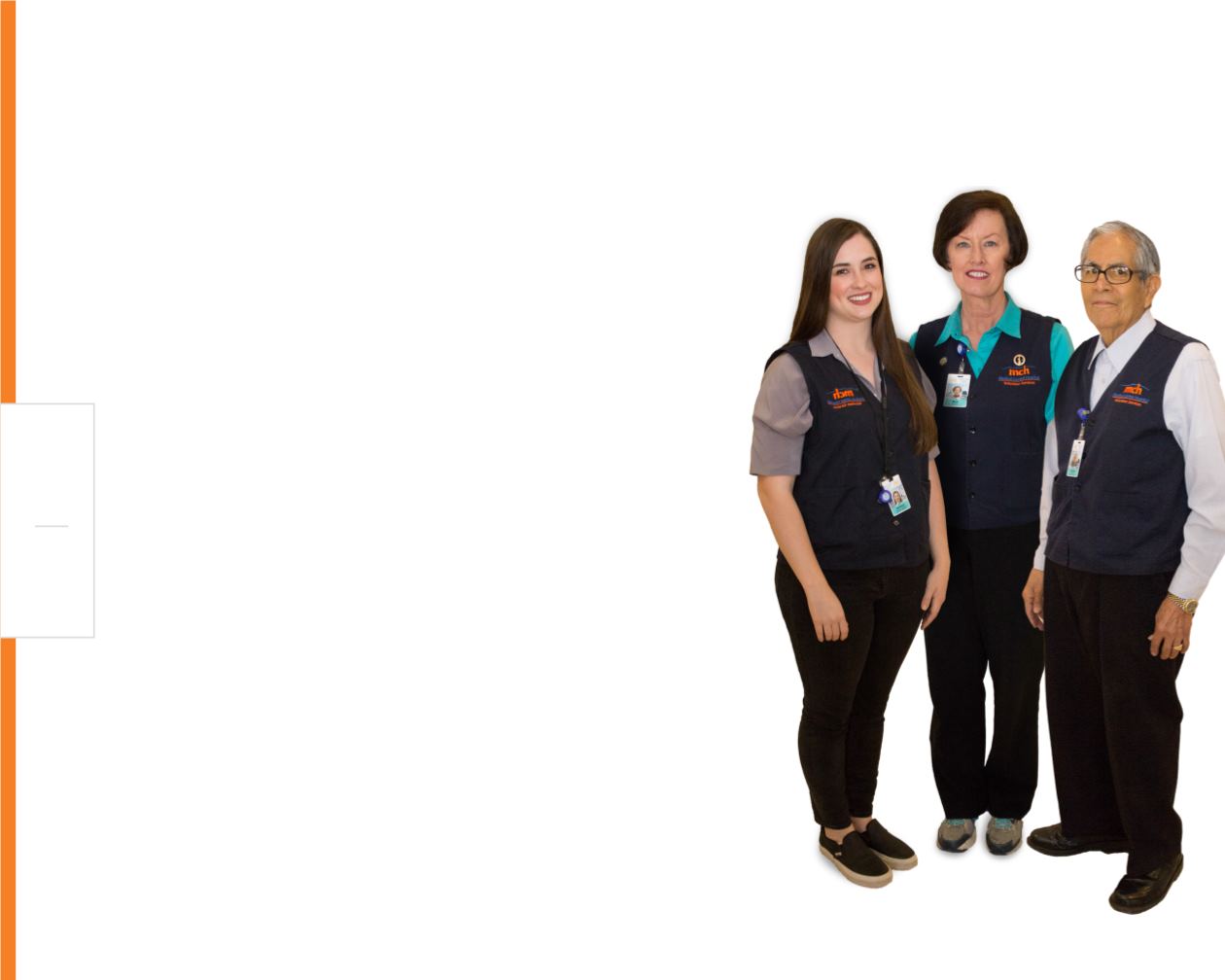 14
ANNUAL
REPORT
2014
VOLUNTEER SERVICES
|
|
|
|
Medical Center Health System Volunteers
are extraordinary people who make patients
and their families feel more comfortable, and
also provide assistance to the hospital staff.
Volunteers can be found smiling, greeting the
public, walking visitors to their destinations or
popping their famous popcorn. It is estimated
that the MCHS Auxiliary has donated more
than four million hours of service to the
hospital throughout the years and that the
Teen Volunteers have donated approximately
2.5 million hours. Volunteers make a difference
behind the scenes as well, providing millions
of dollars in essential contributions to the
health system.
Volunteer Opportunities Include:
•
Ambassadors
- Greeters, welcoming the
public and guiding public to destinations
•
A Tu Salud
- A Tu Salud (To Your Health)
is an outreach and educational program for
the Hispanic community. Monthly talks are
presented in Spanish.
•
Caring Paws
- Visit and help patients by
providing unique patient experiences.
Trained and certified dogs and their owner
interact one-on-one with patients and
their families.
•
Friendship Home Angels
- Help us provide
a "home away from home" with a wide
spectrum of services to families staying at
the Friendship Home.
•
ICARE Hospitality Cart
- Greet, assist, escort
hospital guests and offer them
complimentary items, located on the
ICARE Hospitality Cart.
•
KnowMe2
- Get to know the patients, get to
know the families by visiting one-on-one
with patients.
•
Odessa, Texas Farmers Market
-
Promotes health and wellness
at the only healthcare sponsored
farmers market in the Permian Basin.
June – October, 2nd Saturday,
9am – 12pm
•
Popcorn/Refreshment
- Assist
with making delicious popcorn
for the public along with selling
other refreshment items.
•
Special Events
- Help with
health fairs, walks, marathons,
food bank, lecture series, dance
for health events and many other
community-wide special events
throughout the year.
"I am only one, but I am one.
I cannot do everything, but
I can do something. And I
will not let what I cannot do
interfere with what I can do."
~Edward Everett Hale